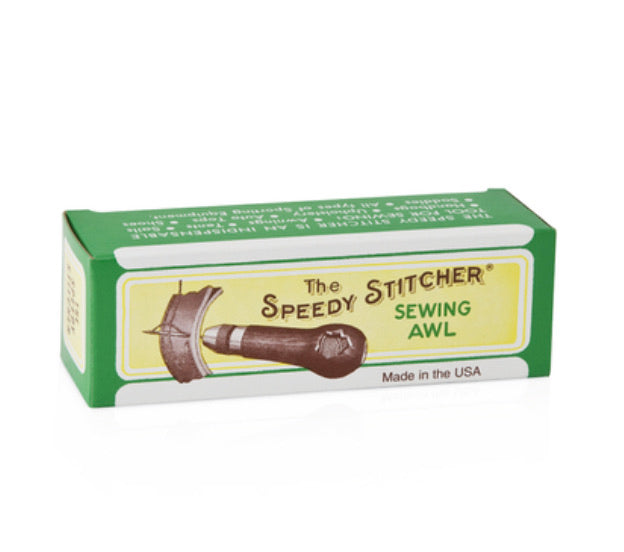 SEWING  AWL  - "Speedy Stitcher"
 A handy device for sewing heavy material, i.e. Leather Awning repairs, Sails, Upholstery.
Our basic awl. Included is the Speedy Stitcher Sewing Awl, one straight and one curved needle as well as a built-in bobbin wound with 14-yards of waxed thread and use instructions
The Speedy Stitcher Sewing Awl, is a hand tool that can be used to sew any heavy material. It's a helpful tool to have around the house, farm, workshop or any place where leather, canvas or vinyl has to be sewn or repaired.
Every Speedy Stitcher is Made in the USA and comes with our signature high-tensile waxed thread and custom-made diamond point needles. With a little practice, it sews a perfect lock stitch every time - just like a sewing machine.
Uses for the Speedy Stitcher including the assembly and repair of leather goods, canvas tarps, climbing and camping gear, saddlery and tack items, athletic equipment, even shoes and belts.
The Speedy Stitcher was originally patented in 1909 by Francis Stewart of Central Massachusetts.  Mr. Stewart, a prolific inventor, introduced the Speedy Stitcher to the marketplace where it has remained in constant demand for over a century. Today, Silver Creek Leather Company is proud to continue the Speedy Stitcher legacy and manufacture the same high-quality sewing awl in their Southern Indiana facility.
The Speedy Stitcher Sewing Awl is a tool used by professionals and do-it yourselfers such as leather crafters, sailors, boaters, horse lovers, outdoor enthusiasts, athletes and coaches, just to mention a few. This is an all-in-one sturdy hand tool with waxed polyester thread and diamond point needles that is designed to sew a tight lock stitch, just like a sewing machine, with ease. Customers around the world call it, "indispensable."
Since its patent and original manufacture in 1909, the Speedy Stitcher Sewing Awl has been proudly sourced and manufactured in the United States.
We take great pride in the fact that the nearly all the component parts of the Speedy Stitcher are sourced from the United States - the wood handles are from Maine, the metal bobbins and caps are from Massachusetts and thread from the Carolinas.  Every awl is assembled and packed by hand, in our factory in Southern Indiana.
The Speedy Stitcher Sewing Awl is produced in America and distributed to retailers on five continents. We proudly stand behind our American-made product and invite you to join in the spirit of self reliance and creativity by owning the ever-popular Speedy Stitcher Sewing Awl.