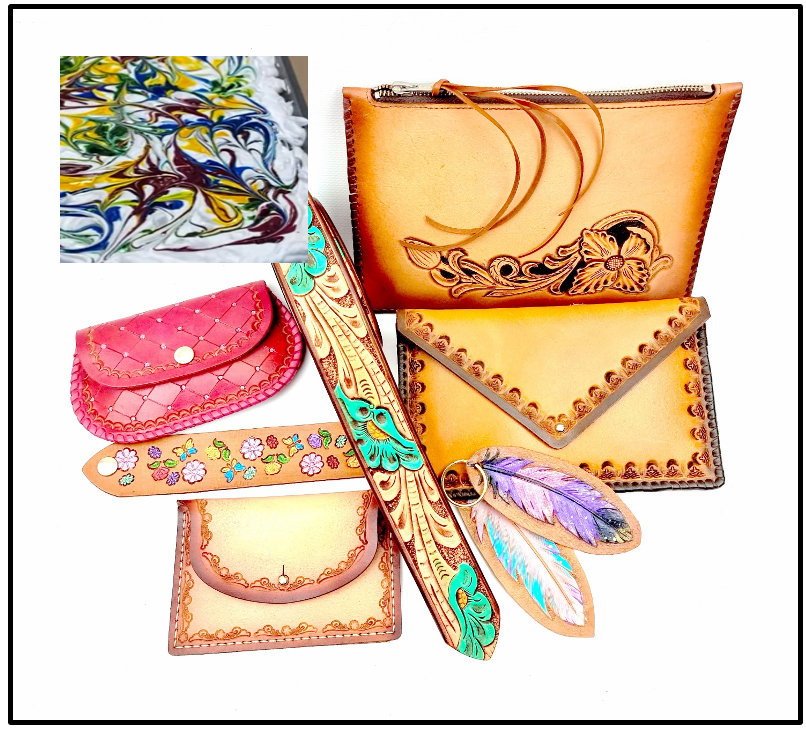 THE TICKETS
$155 per student for 5 hour workshop (coffee and morning tea included)
CLASS TIME:  9:30am - 2:30pm - Saturday 22 October 2022
LOCATION:  The Leather Shed, 130 Kingfisher Road, Mount Cotton
Since we send reminders to all workshop participants, if you are purchasing tickets for more than one person and/or as a gift, please provide the name and email address of the person/s attending in the notes section of your order.
THE WORKSHOP
Having problems colouring natural veg tanned leather projects then, this workshop is a must!
If you have done one of my workshops, you'll know how much I love the way vegetable-tanned leather responds to leather dyes. The possibilities are endless! You can blend just two or three colours together and get so many beautiful shades - as many different colours as in nature itself. But like anything, it takes a lot of practice and skills to achieve exquisite results.
Techniques covered are:
Application of Sprit & Water based dyes, how to achieve graduate shading, resist dyeing, Antique finishes and the different effects, how to enhance tooled and carved designs with dyes and acrylic paints, also other techniques on colouring covered in this workshop.
Leather, dyes, antiques finishes, and sealers supplied for students to use.
If you have some examples of colouring problems, please bring them along.
YOU WILL NEED TO BRING
- Apron or old T/Shirt
- Gloves at least 2 pair
- Roll of paper towel
- Newspaper (that's about 10 pages at least)
- Flat baking tray A4 size, old one is ok as we will cover it with glad wrap
- Wood skewers x 2 or couple of fine sticks
- Scissors
- Old towel or rags
TERMS

Please see our returns policy for the small print.
Can't make it to this one? Subscribe to hear about upcoming workshops.