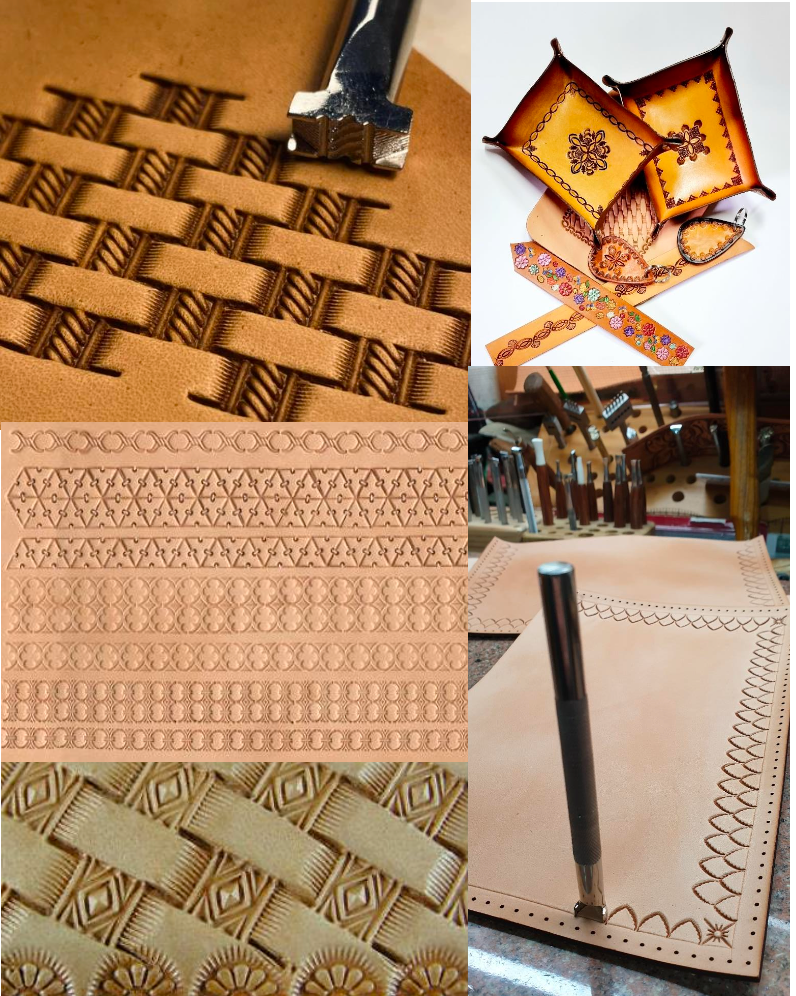 CLASS TIME:
9:30am - 2:30pm Saturday 9 December 2023
Since we send reminders to all workshop participants, if you are purchasing tickets for more than one person and/or as a gift, please provide the name and email address of the person/s attending in the notes section of your order. 
THE WORKSHOP
Discover the joy of leather crafting at this hands-on workshop to create your own masterpieces. Creative tooling is an easy way to create beautiful designs on leather when making projects with your personal touch!
This workshop is designed to show you the foundation skills and proper usages of stamping tools to create simple and complex patterns. Attention will be given on how to orientate the tools to fit your design within the allocated space border to border. Stamping is using a combination of tools and learning how one tool can create several different patterns.
You can make numerous projects once you understand the unlimited design possibilities. Examples are. Book covers, wallets, belts, bags, clutches, key ring/tags etc
Also covered in this workshop are how to:
Set Rivets, attach snap closures and chicago screws, how to use different dyes and finishes to color your projects as well as different applications required to seal your vegetable tanned leather.
All tools and equipment are supplied for this workshop, for you to use at no additional cost.

THE TUTOR
Internationally recognised for her talent and contribution to the leather industry, Cherryl McIntyre has been perfecting her craft for more than 30 years. An exceptional teacher, President and founding member of the Leather Crafters Association of Queensland, and Director of Exquisite Leather, this Brisbane based Leather Artisan has travelled the world sharing her skills.
You might like to know, Cherryl was the first ever to be presented with the prestigious Al Stohlman Award outside of the U.S.!
Cherryl has also coordinated the largest event for Leather Crafters (of all skill levels) in Australia and New Zealand, Dimensions in Leather, since 1994. 
TERMS
Please see our returns policy for the small print.